Dec 6, 2021
Today's podcast features Dr. Peter Spurrier, a British physician who has founded TEAM-UK. Peter describes how he spent most of his career as a physician in general practice, but was forced to see patients for only ten minutes due to the British health system. He didn't like the "quick fix" approach to patients with emotional struggles, and at the age of 55, five years before he retired from General Practice, he decided that he wanted to do something more meaningful, so he began to get training in CBT which "helped me listen better."
However, CBT seemed stilted, and the outcomes weren't very good, either. Then he attended a two-day "Scared Stiff" workshop I presented in London several years ago. The workshop was sponsored by my friend and colleague, Jack Hirose, from Vancouver, Canada.
I was not aware that Peter was in the audience, but was really happy to hear that he like the workshop. I had been pretty disappointed in it, since the attendance was light and I ran into quite a bit of resistance from the audience. This was a huge surprise, since I thought they'd be eager to hear about all the improvements we'd made in traditional "Beckian" CBT.
At the workshop, Peter purchased my Therapist's Toolkit, but said "it just laid on my shelf for two or three years. Then, he began using it and decided to focus on TEAM-CBT full time.
He began listening to the Feeling Good Podcasts, starting from #1 and eventually caught up. He says that "along the way, I learned by practicing the techniques I was hearing about."
He says he has always been a critical thinker, and initially was dubious about the T = Testing part of the TEAM treatment model. As a GP, he was required to use questionnaires for patients with anxiety and depression, but for some time he thought it wasn't very accurate data. When he started using the Brief Mood Survey, he was shocked as he began to realize that this WAS good data, and that his reading of how his patients felt was frequently off-base. This, of course, is the foundation of the TEAM-CBT model, which is entirely and intensely data-driven.
Then he attended one of my four-day summer intensives at the South San Francisco Conference Center, and loved the warm and encouraging atmosphere, commenting on the friendliness and encouragement of Rhonda, whom he met, and Dr. Angela Krumm, from the Feeling Good Institute in Mountain View, California. They both reached out to him. He said it was actually great to get the chance to work with people, and he was delighted by a demonstration I did on public speaking anxiety and social anxiety, which captivated the audience.
After the intensive, Peter returned to London and founded TEAM-UK. He also looked up Dr. Stirling Moorey, who I'd mentioned in my first book, Feeling Good. I have also mentioned Stirling in numerous workshops, especially when teaching therapeutic empathy.
Although Stirling was my student, I learned a great deal from him, especially in the area of empathy. Peter described an outstanding chapter on empathy, written by Stirling in a book he has co-edited with Anna Lavender entitled The Therapeutic Relationship in Cognitive Behavior Therapy.
I got excited to hear this and hope we can feature Stirling on a podcast one day soon! I would love to hear about his journey since we first worked together more than forty years ago, when he was just a medical student. His particular interest has been the application of CBT to life threatening illness and adversity. He was one of the first therapists to develop CBT for people with cancer and is co-author, with Steven Greer, of The Oxford Guide to CBT for People with Cancer.
I got excited to hear this and hope we can feature Stirling on a podcast one day soon! I would love to hear about his journey since we first worked together more than forty years ago, when he was just a medical student.
Peter wrote an article on TEAM-CBT for the newsletter of the British CBT group entitled "CBT Today." He got zero response for several months, and then heard from Derek Reilly who uses TEAM-CBT in the treatment of pain patients. And, slowly, others began to join Peter's TEAM.CBT.UK group, and now there are 25 to 30 members. Click here if you'd like to see the current edition of the Feeling Good UK newsletter!
Peter also talked about the visit that Rhonda recently paid to the UK and TEAM UK's first in-person meeting, at Oxford University. "It was such a great pleasure to meet and spend time with Rhonda. She formed strong connections with the group, which we hope will endure for years to come".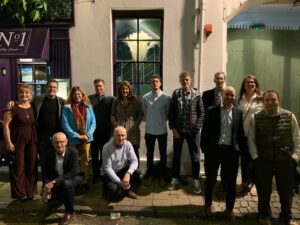 Rhonda on her visit to the UK TEAM group at Oxford University.
We discussed the resistance to change that we sometimes run into among mental health practitioners. Peter said, "It's often quite hard to get people to change their ways, and organizations are not always that flexible, either." One of the things that drew Peter to TEAM-CBT was the fact that it offered a way to embrace the best from various approaches to CBT.
This is a phenomenon I have encountered and wrestled with throughout my career as well, and is one of the reasons I would personally like to see an end to all of the schools of psychotherapy, with a switch to science-based data driven therapy. TEAM-CBT is NOT another new "school" of therapy, but rather a structure for how psychotherapy actually works.
Although all the hundreds of schools of therapy that have cropped up over the decades have provided some insights into human nature, and some useful treatment techniques, I believe that on balance, they hold the field back and actually function a bit like cults, all claiming to have the best answers and most effective techniques—but the outcome studies simply do not support this notion. In the treatment of depression, all of the current schools of therapy come out about the same in controlled outcome studies, and none are very impressive. In fact, only slightly more than half of the patients even experience a 50% reduction in depression symptoms, which is not very good!
The British Association for Behavioral and Cognitive Therapies is the over-arching organization and accrediting group that Peter's TEAM-UK has joined. He explains that "we are a special interest group, within their membership of roughly 15,000 CBT practitioners." Many of the members of TEAM-UK attend Rhonda's Wednesday training group, and there are also two practice groups, weekly, in England. If you'd like more information about their activities, please visit their excellent and appealing website, FeelingGood.UK.com.
If you are a British mental health professional, or in Europe, and you would like to learn more about TEAM-CBT, I would STRONGLY encourage you to contact Peter and join one of the ongoing practice groups. You can reach Peter Spurrier by emailing him at: docspurr@gmail.com
Peter says that if there is one piece of advice he would like to give to his younger self as a doctor and for life in general, it would be to learn, absorb and practice the "Five Secrets of Effective Communication."
Rhonda and I are huge Peter Spurrier fans and hope you enjoyed today's interview!
From Rhonda: Meeting everyone in the TEAM-UK group was an extreme pleasure for me. It was a wonderful experience to meet people in person that I have only met on-line, and to get acquainted with TEAM therapists I had not met before. Everyone is a dedicated, talented and enthusiastic TEAM therapist, and excited about building community. Plus, everyone was fun and enchanting to hang out with. It was definitely one of the highlights of my trip to meet everyone, and to have the opportunity to engage in discussion, to learn about about their hopes, dreams, visions and plans for the future for TEAM-UK!
Rhonda and I will offer a free, two-hour workshop on habits and addictions on January 26, 2022 from 11:00 AM to 1:00 PM Central Standard Time, sponsored by PESI, so watch for the links on this or their website. If you register, you will have access to a video following the event, in case you can't attend at that specific time. if you can attend, you'll have the chance to try some mind-blowing techniques that will help you with overeating, drinking, drug use, nail biting, excessive shopping, or whatever you secret habit / addiction happens to be. Remember this presentation will be--
for Patients, Therapists, and the General Public
It's Totally FREE
Rhonda and David